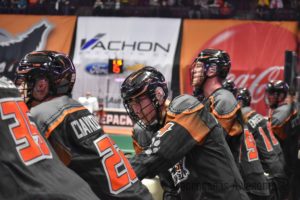 [MEDIA RELEASE]
The Black Wolves are back at Mohegan Sun Arena for the third straight week following a tough overtime loss to Georgia last Sunday. This Saturday, Feb. 1, the Vancouver Warriors (2-4) will make their way to the East Coast for a 7pm matchup on Here for the Beer night.
Following the contest, fans 21+ are invited to enjoy samples from local breweries on the arena concourse. Black Wolves fans can purchase their Here for the Beer pack and get a ticket to the game, samples from 10 breweries and a t-shirt for as little as $35. For info on the game and the post-game beer garden visit Ticket Central at blackwolves.com or call 844-LAX-WOLF.
History: Saturday's contest will be the Black Wolves' second game against a Western Division opponent this season. New England and Vancouver last faced each other on Mar. 16, 2019 where the Pack was defeated 12-9 in Warriors' territory. New England currently holds a 14-8 all-time record against the Warriors.
New England: On Sunday, Jan. 26, the Black Wolves were defeated by the Swarm 11-10 in their second overtime game of the season. This was also the team's first loss this year which puts them at 4-1 overall.
Offense: On the offensive front, Callum Crawford remains a constant threat for opposing team's defense. Crawford is averaging 3.2 goals and 3.8 assists per game. The MVP contender has already posted hat tricks in four of five games this season. Crawford leads his team with 16 total goals and 19 total assists. Additionally, forwards Andrew Kew, Reilly O'Connor, Stephan Leblanc and Joe Resetarits add solid support to the Black Wolves' offense. Kew and Leblanc are two and three in assists with 15 and 14, respectively. O'Connor sits second on the team with 10 goals while Resetarits and Kew follow with nine and eight apiece. New England has scored 62 goals and assisted on goals 92 times for 154 total points.
Defense: The Black Wolves' defense continues to develop each game, especially with key defenders like Adam Bomberry and transition players like Colton Watkinson back in the mix. Against the Swarm, his first game of the season, Bomberry caused three turnovers and collected 10 loose balls. Greg Downing, Nick Chaykowsky and Brett Manney are also primary factors in stirring up opponent's offensive plans. Helping both defensively and on the faceoff X, Joe Nardella is a steady top-five performer in the league on the mark. Nardella is 75 of 126 on the faceoff and currently has a 60% success rate. Tony Malcom, a former Vancouver Warrior, bodes well for New England's transition play as well. Malcom has scored two crucial fast-break goals in transition in the last two contests. He also leads the team with 43 loose balls, a majority of which have come from the rebound on the faceoff.
Tying the team together is Doug Jamieson in the net. The fourth-year goalkeeper has seen 303 minutes of action where he has recorded 217 saves for a .828 save percentage. Among other goalies in the league, Jamieson is seventh in saves with a one-three game differential between him and the keepers ranked above.
Vancouver: The Warriors are looking to snag their second win in the East Division. Vancouver's first and only win this season has come against the New York Riptide. All other matchups have been against Western Division opponents, including San Diego, Colorado and Calgary.
Offensively, Mitch Jones, Jordan McBride and Keegan Bal are Vancouver's most lethal weapons. Jones proves to be a threat in multiple facets, with a team-high 14 goals, 22 assists and 42 loose balls. McBride has also tallied 14 goals, while Bal has dished out 21 assists, scored seven goals and picked up 36 loose balls.
Matt Beers and Ian Hawksbee have been the strength of Vancouver's defense, alongside Justin Salt and Dereck Lloyd in transition. Beers and Hawksbee have each collected the second most loose balls on the team with 41, respectively. Beers has also caused nine turnovers with Salt and Lloyd behind at four apiece.
The Warriors have seen action in the net from two goalies this season; primary keeper Eric Penney and Aaron Bold at relief. Penney has played in five contests and has recorded 192 saves for a .797 save percentage.
Vancouver has tallied 57 goals and 90 assists for 147 points in six games. Collectively, the Warriors have also caused 38 turnovers and gathered 440 loose balls.
Looking Ahead: The Black Wolves will take a break from competition during Week 11 but after, will return to Mohegan Sun for two more weeks of home competition. In Week 12 of action, New England will host a Galentines and Bromances theme night and welcome back the Philadelphia Wings. Faceoff between the East Division rivals is set for 5pm on Sunday, Feb. 16. The following week, the Black Wolves will dedicate the night to honoring Hometown Heroes in partnership with Fox61. Rochester will arrive to Uncasville, on Saturday, Feb. 22 for a 7pm start.