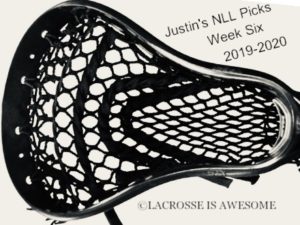 Justin Ivey, NLL Correspondent
Lacrosse is Awesome©
Standings:
Shawn Palmer 13-7
Justin Ivey 12-8
Stephonya Hunter-Penner 12-8
Chris Vale 11-9
Week 5 was full of surprises.  Stephonya went an amazing 4-2 in a week full of "upsets".  I put the upsets in quotes because well, the season is young.  Chemistry is a big part of the NLL and that will grow throughout the season.  Colorado willed their way to an excellent win in Georgia on the back of an outstanding defensive fourth quarter.  Philadelphia stunned Calgary with a last second game winning goal in an extremely low scoring game while San Diego won a nail biter in overtime over Vancouver.  Saskatchewan easily handled New York.  Halifax showed they still got their chemistry rolling through Buffalo and Toronto was victorious in Rochester.  The loaded schedule does not continue.  There are only two games in Week 6 and here is how we see them.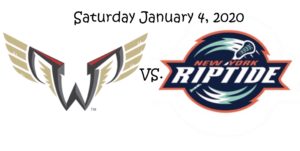 Philadelphia Wings (1-1) at New York Riptide (0-4)
Saturday, January 4 at 7:30 PM EST
New York had a tough Week 5.  They were blown out on the road Friday night in New England and lost their home opener to the Rush on Saturday.  Against the Rush they could only find the net four times, no where near a winning offensive effort.  On the positive side though, they held Saskatchewan to only two goals in the second half.  Their defense and goal tending were able to find some momentum.  That momentum needs to continue against a Wings team that has some high-profile scorers.  Matt Rambo's third goal in two games this season won Philadelphia their first game of the season and Kevin Crowley is still someone to worry about.  His cannon and pinpoint aim have not diminished.  For New York to get their first win, they will need to put together a complete game against a Philadelphia team that is feeling high after their first win.
My Pick:  Philadelphia
Stephonya Hunter-Penner: Philadelphia
Chris Vale: New York
Shawn Palmer: Philadelphia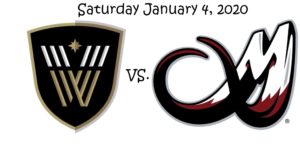 Vancouver Warriors (1-2) at Colorado Mammoth (2-1)
Saturday, January 4 at 9:30 PM EST
Vancouver plays their first road game of the season this week in the Loud House.  This game is very important to the Warriors.  They are 0-2 against West opponents, with their only win coming against the East New York Riptide.  They need to start winning against their division teams.  Will Aaron Bold or Eric Penney start in net?  Mitch Jones already has 22 points this season and is excellent at creating his own shot, but the Warriors have not yet put together a complete game.  Colorado returns home after going 2-0 on the road.  Their first three games were against the last three NLL champions and the difficult early season schedule should benefit them.  Jacob Ruest is lighting it up from the right side with 10 goals through three games.  Dillon Ward is making difficult saves look routine.  As the NLL game of the week, this match should not disappoint.
My Pick:  Colorado
Stephonya Hunter-Penner: Colorado
Chris Vale: Colorado
Shawn Palmer: Colorado