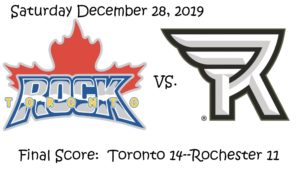 Christopher Crane, Correspondent Rochester Knighthawks
Lacrosse is Awesome©
Featured Image Photo Credit: Micheline V
In the second game of action in the State of New York, the Rochester Knighthawks (0-3) played host to the Toronto Rock (2-1) at the Blue Cross Arena in front of a crowd of 5,036.  Toronto would come out from the start and control the tempo of the game showing no signs of slowing down.  Going up 6-3 into the half and at one point late in the game they'd be up as much as six goals, but Rochester being the grind out team they are, began a late surge that got started when they were forced to make a change in goaltenders.  Due to a lower leg injury Steve Fryer was replaced with Craig Wende who would make quite a few spectacular saves that could be compared to that of Buffalo Sabers ex-goalie Dominick Hasek and go 16 for 19 on shots faced.  Unfortunately the Knighthawks would still end up coming up short as the Rock would take a 14-11 win.
First quarter action saw the Rock lead 3-2 at the end of the frame.  Toronto's Rob Hellyer (4g, 2a) would get things going for the Rock by finding the back of the net at the 4:24 mark;  followed up by former Knighthawk now Toronto Rock Dan Dawson who would net their second score of the night to put the Rock up 2-0 at 6:59 in the period.  It wasn't until the 11:50 mark that Rochester's Pat Saunders (1g, 2a) would finally get one past Toronto's net minder Nick Rose to make it a 2-1 game.  Toronto's third goal would come from Hellyer for his second on the night to make it 3-1.  Rochester would notch another from transition player Cory Highfield (1g) at 14:19 to make it 3-2 at the end of the first.
The Rock began to pull away from Rochester outscoring the Knighthawks 3-1.  Phil Caputo (1g) would score the first goal of the period for the Knighthawks and to tie it up 3-3 at 4:45.  But Toronto would go on a three goal run that would carry over into the third as they would tally off the first three scores in the third period.  Netting the three goals for the Rock in the second came from the likes of Zach Manns (2g, 1a); Hellyer; and Tom Schreiber (2g, 2a) giving Toronto a 6-3 lead heading into halftime.
Toronto would pick up where they left off at the end of the second with Hellyer getting things started just 49 seconds in to put the Rock up 7-3.  Finishing out the Rock's six goal run, Toronto would get scores from Dan Craig (4g, 1a); and Schreiber to make it a 9-3 game.  The Knighthawks would finally answer back with two quick scores of their own, one at 6:20 from Curtis Knight (2g, 4a); with teammate Turner Evans (2g, 2a) following up just 17 seconds later getting them to within two and making it a 9-5 game.  Toronto would again go on a three goal run with Craig netting two with teammate Manns netting the third and the score now 12-5. On the Rock's tenth goal, Rochester goalie Steve Fryer appeared to injure his leg and left the game.  Craig Wende would replace him in the Knighthawks' goal, only to allow two goals on the first two shots he faced. Rochester would answer back with two scores of their own in the closing minutes of the period coming from Shawn Evans (3g, 2a); and teammate Holden Cattoni (1g, 3a) to make it a 12-7 game at the end of the third.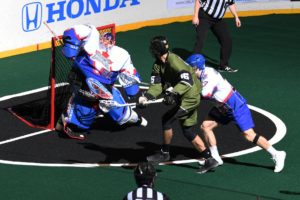 Rochester started to gain ground on the Rock as they would out score Toronto 4-2 in the fourth.  It was a stalemate between both teams as they were unable to find holes in each net minders zones until 6:20 in the final frame when Rochester's (S) Evans finally broke through and tallied one for the home team closing the gap to four.  But it took only 41 seconds for Toronto to bring it back to five with Craig netting another.  Rochester would hit back themselves netting the next two, another from (S) Evans giving Rochester its' first hat trick of the season; and teammate (T) Evans netting the second with the extra attacker.  Each side would net one more in the last 90 seconds; Toronto's goal from Challen Rogers (1g, 2a); and Rochester's from Knight with 29 seconds remaining, but unfortunately it wouldn't be enough as they would come up short.  Final Score:  Toronto 14—Rochester 11.
"I think tonight we got a little away from the game plan early in the third quarter and they took advantage of us," said Knighthawks head coach Mike Hasen. "It's just finding that consistency and learning to stick with it."
"The good thing about the upcoming bye week is that we have them (Toronto) again coming out of it, so we'll have an opportunity to evaluate and regroup.
"I don't think it was one of our cleanest wins, but the guys were working hard, and it was a gritty win, from the offence and the defence.  It was a good win for us," said Rock defender Brad Kri who had a big game with five caused turnovers and 12 loose balls.
TEAM STATS:
Toronto—56 SOG; 28 SOFF; 75 LB; 16-29 FO; 0-1 PP; 10 PIM
Rochester—50 SOG; 27 SOFF; 61 LB; 13-29 FO; 3-5 PP; 4 PIM
GOALIE STATS:
Toronto Nick Rose—49 SOG; 38 Saves; 11 GA; .755 Sv%
Rochester Steve Fryer—36 SOG; 26 Saves; 10 GA; .766 Sv%
Rochester Craig Wende—19 SOG; 16 Saves; 3 GA; .842 Sv%
NEXT UP:
The Knighthawks (0-3) will have their chance at redemption against the Toronto Rock (2-1) on Saturday, January 11, 2020 when the home-and-home series shifts north of the border for a rematch at Scotiabank Arena in downtown Toronto, game time 7:00 p.m. EST.
Christopher Crane, Correspondent Rochester Knighthawks
Lacrosse is Awesome©