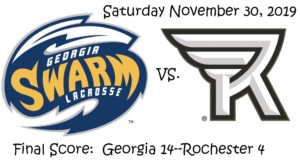 Christopher Crane, Correspondent Rochester Knighthawks
Lacrosse is Awesome©
Featured Image Credit: Micheline V/ Rochester Knighthawks
The Rochester Knighthawks (0-1) would begin their inaugural season by playing host to the Georgia Swarm (1-0) at the Blue Cross Arena in front of a crowd of 5,642.  Unfortunately for Rochester; Georgia would be a bit much for them to handle as the Swarm would go on to win 14-4.
Georgia would be led by Lyle Thompson who ended the night with four goals and three assists; with brother Myles Thompson adding three goals and two assists.  The Swarm would get a hat trick performance from Shayne Jackson (3g, 4a); in addition Jordan Hall; Zed Williams; Jason Noble; and Bryan Cole all each added one score a piece.
Dan Lintner would score Rochester's first goal in franchise history (assist Shawn Evans) at the 8:41 mark in the first, but a quick response from Lyle Thompson overshadowed the history making goal.
Game Highlights:  https://www.youtube.com/watch?v=nIP7IOpkh5w&feature=youtu.be
Four different Knighthawks tallied scores for the team the first one from Lintner.  Rochester wouldn't add another score until late in the third period when Phil Caputo would get a cross crease pass and one time it to beat the Swarm's net minder.  The Knighthawks last two goals of the night would come from Dan Michel and Jay Thorimbert.
Some highlights on the Knighthawks night:  Captain Paul Dawson appeared in his 200th professional game tonight … Assistant captain Curtis Knight appeared in his 100th pro game … Jay Thorimbert went 8-12 on face-offs and is now nine face-off wins away from surpassing Geoff Snider (2,468) as the NLL's all-time leader.
TEAM STATS:
Rochester:  46 SOG: 21 SOFF; 86 LB; 13-18 FO; .722 FO%; 2-7 PP
Georgia:  58 SOG; 15 SOFF; 61 LB; 5-18 FO; .277 FO%; 3-3 PP
GOALIE STATS:
Rochester—Craig Wende: 58 SOG; 14 GA; 44 Saves; .758 Sv%
Georgia—Mike Poulin: 38 SOG; 2 GA; 36 Saves; .947 Sv%
Georgia—Kevin Orleman: 8 SOG; 2 GA; 6 Saves; .750 Sv%
Though a tough opening loss for the new Rochester Knighthawks team they will look to bounce back as they travel to take on the Halifax Thunderbirds in three weeks.
NEXT UP:
The Rochester Knighthawks (1-0) will head to Halifax, Nova Scotia to face the Thunderbirds at the Scotiabank Centre on Saturday December 21, game time 6:00 p.m. EST.
The Georgia Swarm (1-0) will host the Philadelphia Wings in their first game of the 2019-20 season at home at Infinite Energy Arena, in Atlanta, GA on Saturday December 14, game time 7:00 p.m. EST.
Christopher Crane, Correspondent Rochester Knighthawks
Lacrosse is Awesome©