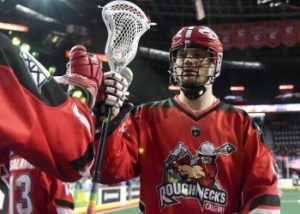 [MEDIA RELEASE]
Calgary, AB – The Calgary Roughnecks have re-signed defenceman Curtis Manning to a one-year contract.
Manning, 32, is entering his 11 season in the NLL, all with the Roughnecks. He joined the franchise in the 2008 NLL Entry Draft after being selected by Calgary in the first round, sixth overall. The Surrey, British Colombia product was named to the 2010 All-Rookie Team and has amassed 68 points (21g, 47a) in 129 games with the Roughnecks.
CURTIS MANNING – DEFENCEMAN
HOMETOWN:          Surrey, BC                        DOB:           Mar. 12, 1987
HEIGHT:                  6'3"                                   WEIGHT:     210 lbs.
SHOOTS:                Right
| | | | | | | | | |
| --- | --- | --- | --- | --- | --- | --- | --- | --- |
| NLL STATS | GP | G | A | PTS | PIM | LB | CTO | FO |
| 2019 Regular Season | 7 | 0 | 2 | 2 | 8 | 27 | 3 | 0-0 |
| 2018 Regular Season | 18 | 1 | 6 | 7 | 20 | 76 | 10 | 3-7 |
| 2017 Regular Season | 18 | 1 | 6 | 7 | 12 | 79 | 17 | 0-0 |
| 2016 Regular Season | 13 | 2 | 6 | 8 | 25 | 59 | 17 | 22-70 |
| 2015 Regular Season | 17 | 2 | 4 | 6 | 14 | 74 | 27 | 22-59 |
| 2014 Regular Season | 13 | 4 | 7 | 11 | 10 | 69 | 15 | 0-0 |
| 2013 Regular Season | 11 | 0 | 3 | 3 | 16 | 52 | 10 | 0-0 |
| 2012 Regular Season | 14 | 5 | 9 | 14 | 18 | 84 | 13 | 0-0 |
| 2011 Regular Season | 2 | 2 | 0 | 2 | 4 | 6 | 2 | 0-0 |
| 2010 Regular Season | 16 | 4 | 4 | 8 | 36 | 72 | 0 | 1-1 |
| NLL Career | 129 | 21 | 47 | 68 | 163 | 598 | 112 | 48-137 |