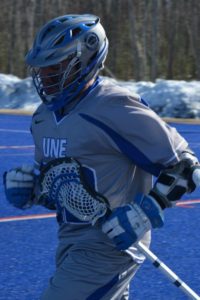 Nick is from Sicklerville, NJ and loves the sport of lacrosse. When he was 16 years old a friend of his asked if he wanted to try it in high school and that's when de started playing. He knew nothing of the sport but figured he'd give it a try and immediately became hooked. What started that day was a deep-rooted passion and involvement in the game that he never though he could have.  What made it even better was growing up near Philadelphia, and whenever he saw the NCAA championships were coming to town, he always made sure he was there for the full weekend.
He started playing close defenseman and moved into the LSM position. The game offered him several opportunities including coaching; running camp programs; and even offering private lessons for up and coming players. During his senior year of high school, he made the decision to begin the search for colleges and exploring the idea of playing in the NCAA. Eventually he chose to attend the University of New England, a Division 3 school in southern Maine where the lacrosse talent was thriving, fun, and competitive. He didn't play his freshman year of college, but after working hard in the gym, was able to return his sophomore year and play all the way through his senior year setting a personal in game record of six ground balls; made the conference playoffs and semi-finals in both his junior and senior year. He also made the switch from LSM to Short Stick Defensive Midfielder.
On the side, he's also played as a hired box lacrosse goalie for a youth program on Sunday's and during the summer would consistently play in a men's league. He's been in involved with various lacrosse entities including a small online database named YML2 and a bigger corporate entity Lacrosse Unlimited. That's where he learned to fine tune the ability to string his stick with ease. Currently, he's studying for his Master's in Clinical Mental Health Counseling in the hopes of using that to open the world of Sport's Counseling/Psychology.
During his first year of graduate school, he was a Graduate Assistant Coach with Head Coach Niko Amato (Goalie for the Chesapeake Bayhawks) and that's where he got his first taste of being a college coach. Nick loves the Philadelphia Wings and is a current season ticket holder.
He'll be covering the Philadelphia Wings, and two of the teams in the PLL, Redwoods LC and Atlas LC.
Welcome to Lacrosse is Awesome Nick.  Glad to have you on our team!!
Di Miller, President & CEO
Lacrosse is Awesome©