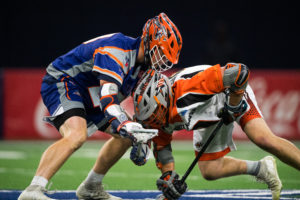 Tom Coyne, Correspondent Dallas Rattlers
Lacrosse is Awesome©
Featured Image Photo Credit Courtesy of Pretty Instant
On August 17th in Week 11 of the 2019 MLL season, the Dallas Ratters (4-7) who up until last week were the league's last place team, would host the Denver Outlaws (6-5) who were sitting in first place in the league up albeit a three way tie at the time until two weeks ago.  They would play in front of their home crowd of 4,712 fans at the Ford Center in Frisco, TX. The Rattlers who started out the season winless in their first seven games would defeat the Outlaws for the second time to win the series 2-1. They have now won four consecutive games while handing the Outlaws their third consecutive defeat.  Final Score:  Dallas 17—Denver 12.
It was a 6-6 tie at halftime with Denver quickly scoring the first three goals of the second half only to allow Dallas to go on a six-goal run. Both teams would exchange another goal apiece, making it a 12-10 contest with Dallas in the lead. While still in the third quarter on a man-down situation, Rattlers D-pole Eli Salama (1-2ptG, 2GB); would hustle downfield and score his third two point goal of the season against fellow Canadian Outlaws goal keeper Dillon Ward (27 SOG, 12 SV, 16 GA) giving the short-handed Rattlers a commanding 14-10 lead, one they would not relinquish.
Once again Dallas played like a team on a mission, that being to get into playoff contention. Net-minder for the Rattlers, former UMass star and Long Island, New York native, Sean Sconone (26 SOG, 14SV, 12GA), had another solid performance between the pipes and his defensive teammates proved to be up to the challenge of throttling the Outlaws potent offensive personnel.
The Rattlers offense scored a season high of 17 points with the help of D-pole Salama's tw0-pointer and "Star of the Game", former Villanova star veteran midfielder Jack Curran (5G, 1GB) netting five goals, an MLL career high for him. Also having another stellar performance was Minnesota native, and Marquette U. standout, Ryan McNamara (3G, 2A, 1GB) tallying five points and his second consecutive hat-trick. Southlake, TX native and Monmouth alum, attacker Bryce Wasserman (1G, 2A, 1GB) continued to contribute with three points. Syracuse alum rookie Bradley Voigt (1G, 1A) is proving to be a vital mid-season acquisition for Dallas, recording two points as did Hopkins alum Cody Radziewicz (2G, 1CTO); and crafty veteran Zack Greer (1G, 1A). Rounding out the scoring was U Delaware alum midfielder Brian Kormondy (1G); along with D-pole and former Cornell star Jake Pulver (1A, 1GB); as well as Mason, OH native U Albany alum (2017 USILA Scholar All-American) Adam Osika (1G, 1GB) each scoring a point.
The stats were all even on turnovers at 16 each; shots on goal favored Dallas 28-26; almost even on face offs with Denver's Max Adler (16-29 FO, 1G, 4GB) holding the edge over the Rattlers newly acquired FOGO Norwich, CT native and UMass alum, Noah Rak (13-29 FO, 5GB), which is great for Rak when you consider that Adler was 23-24 last week against the Chesapeake Bayhawks (7-4). As far as ground balls went Dallas had only 28 to Denver's 37. Leading the Rattlers on gathering up the "loosies" were D-poles Chris Keating (5GB, 1CTO); Craig Chick (4GB, 1CTO); Greg Weyl (2GB); SSDM's Ryan Beville (2GB, 1CTO); and Mike Lazore (1GB).
NEXT UP:
Both teams play on Saturday August 24th. Denver (6-5) will host the last place New York Lizards (3-9) at Mile High Stadium, in Denver, CO on Saturday night, game time 9:00 p.m. EST and you can catch the game on www.majorleaguelacrosse.com
Dallas (4-7) has a double-header away weekend.  Their first game is against the Boston Cannons (7-4) at Veteran's Memorial Stadium in Quincy, MA, game time 5:00 p.m. EST and you can catch the action on www.laxsportsnetwork.com
And, their second game on the weekend is on Sunday August 25 against the Chesapeake Bayhawks (7-4) who are tied for first with the Cannons (Boston owns the tie-breaker) and that game will be played at Navy-Marine Corps Memorial Stadium in Annapolis, MD, game time  5:00 p.m. EST and the game can be seen on www.majorleaguelacrosse.com
Keep on Laxin'!
Tom Coyne, Correspondence Dallas Rattlers
Lacrosse is Awesome©