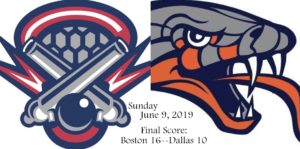 Tom Coyne, Correspondent Dallas Rattlers
Lacrosse is Awesome©
Featured Image Photo Credit: Pretty Instant
On June 9, 2019 and the second week of regular season play in Major League Lacrosse, the MLL's youngest franchise, the Dallas Rattlers (0-2) in front of 3,412 of their faithful fans at the Ford Center in Frisco, would suffer their second loss of the season this one to the Boston Cannons (2-0) by the score of 16-10.
Last season the Rattlers had only lost three times (11-3) in regular season play with only one loss (6-1) at their home in the Ford Center. So far this 2019 season, both losses have been at home.  The team is without the core of their 2018 squad, which were the runner-ups in last season's MLL Championship game losing to the Denver Outlaws, 16-12 on August 18, 2018 in Charlotte, S.C.
Both the Cannons and Rattlers have lost key players to the new professional league, the PLL.   Last season when the Rattlers played at home on June 7, 2018 they defeated the Boston by the score of 22-11.  One of the featured match-ups in that contest was the FOGO's, with two of the best in the game. Boston had Trevor Baptiste (23-37 face-offs, zero goals, 10 GB); and Dallas had Drew Simoneau (14-37 face-offs, three goals, 7 GB), neither were on the rosters for this game.
On Sunday, Boston's new FOGO Kevin Reisman (16-28 face-offs, zero goals, 9 GB) outperformed the Rattlers new FOGO Blake Boudreau (12-28 face-offs, zero goals, 7 GB). Both led their respective teams in GB's, but unlike last season the Dallas FOGO did not score a hat-trick.
Missing scorers from last season's game for Dallas included that game's two high point scorers, Ty Thompson (5 G); Jordan Wolf (2 G, 3 A); as well as John Ranagan (4 G).  Scorers for Dallas this game included Jack Curran (3 G); Ryan McNamara (1 G, 2 A); Zach Greer (2 G); Cody Radziewicz (1 G); and Brian Kormondy (1 G), all of whom were on the roster last year though not necessarily active on June 7, 2018 for the 22-11 victory over Boston.
Scoring for Boston on Sunday night was Kyle Jackson (4 G); Zed Williams (3 G, 1 A); Connor O'Hara (3 G); Mark Cockerton (2 G, 1 A); Challen Rogers (2 G); and Kyle Denhoff (1 A).
Both teams had five PP chances with polar opposite results, Dallas was 0/5 while Boston was 5/5.  Each team had 25 SOG; starting goalie for Dallas Christian Carson-Banister with 10 saves; while Cannons Goalie Nicholas Marrocco had 15.
NEXT UP:
Boston plays host to the New York Lizards (0-2) next on June 22, 2019, game time 5:00 p.m. EST and the game will be televised on majorleaguelacrosse.com.
Dallas will head to Atlanta to face the Blaze (1-1) on June 21, 2019, game time 8:00 p.m. EST and the game will be televised on watchstadium.com.
Keep on Laxin'!
Tom Coyne, Correspondent Dallas Rattlers
Lacrosse is Awesome©