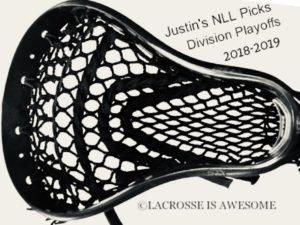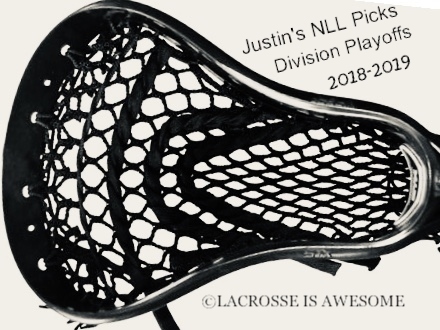 None of us saw the Colorado upset happen!  Congratulations to the Mammoth.  They face a tough task visiting Colorado, where they have not won in the post season since their 2006 championship run.  All except one game resulted in an "upset" showing just how great NLL competition is.  We are down to the last four teams and these single elimination divison finals will determine who plays for the Cup.
Shawn Palmer : 3-1
Stephonya Hunter-Penner : 2-2
Di Miller : 2-2
Justin Ivey : 2-2
West Division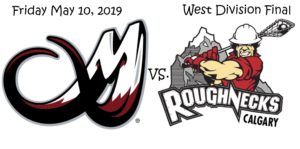 Colorado Mammoth (4) at Calgary Roughnecks (3)
Friday, May 10 at 9:00 PM EST
Justin Ivey
Colorado stunned the defending champion Rush with an OT goal.  It probably helped that they had some momentum from their visit to Saskatchewan the week previous.  To keep the run going they must visit Calgary where they have not had a lot of post season success in the last 10+ years.  The Roughnecks went to San Diego and beat a determined Seals team and seem to have great momentum.  Dane Dobbie is so hot right now.  Calgary won on the road and are rewarded with a home game.
Pick:  Calgary
Score:  Colorado-10, Calgary-13
Di Miller
Pick:  Calgary
Score:  Colorado-10, Calgary-11
Shawn Palmer
Pick:  Calgary
Score:  Colorado-9, Calgary-14
Stephonya Hunter-Penner
Pick:  Calgary
Score:  Colorado-10, Calgary-9 OT
East Division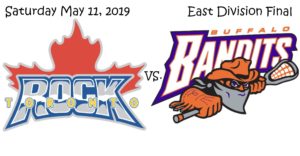 Toronto Rock (3) at Buffalo Bandits (1)
Saturday, May 11 at 7:30 PM EST
Justin Ivey
Toronto held off a furious Georgia rally and came out on top in a close game.  That was not a fluke as they have been excellent in close games this season.  On the other side, Buffalo showed everyone why they are the favorite.  They dismantled the Black Wolves for a third time this season.  The Bandits are on a roll and have shown no signs that they aren't ready to go all the way.  If Buffalo can create early separation on the scoreboard for the second week in a row, they run away with this game.
Pick:  Buffalo
Score:  Toronto-11, Buffalo-16
Di Miller
Pick:  Toronto
Score:  Toronto-14, Buffalo-12
Shawn Palmer
Pick:  Toronto
Score:  Toronto-13, Buffalo-11
Stephonya Hunter-Penner
Pick:  Toronto
Score:  Toronto-14, Buffalo-13