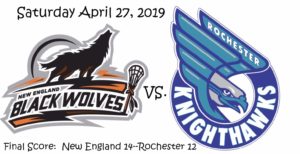 Christopher Crane, Correspondent Rochester Knighthawks
Lacrosse is Awesome©
Featured Image Photo Credit: Rochester Knighthawks
In the last weekend of the NLL regular season the Rochester Knighthawks (6-12) played host to the New England Black Wolves (9-9) in front of a 6,158 crowd at the Blue Cross Arena.  The fans came to see this Rochester team's last home game before moving to Halifax next season.  The Rochester Knighthawks would give those in attendance a hard fought game but unfortunately came up short to the Black Wolves.  Final Score:  New England 14—Rochester 12.
It would be all New England in the first period of play as they would go on a 4-0 run to end the first period; and would carry it over into the second period before their run was broken at six goals when Rochester's Chris Boushy (2g) would finally net one for Rochester at 2:28 in the second period.  Tides would then change back in favor of New England as Callum Crawford (7g, 2a) netted two more goals giving him four out of his seven before halftime.  New England would go into halftime with a comfortable 8-1 lead.
Rochester would now begin picking away at the large deficit and would tally off the first three scores of the period from Kyle Jackson (1g); Jake Withers (1g, 1a); and Austin Shanks (2g, 3a) to make it an 8-4 game.  The Black Wolves were able to tally another four in the frame with Rochester only being able to tally three more in the third; two from Ryan Benesch (4g, 3a) and Boushy netting his second on the night to make it 12-7 game at the end of the third.
Only 15 minutes left in the season for the Knighthawks and the fourth period action would see their defense come alive only giving up two scores to New England while gaining ground on the Black Wolves lead.  Rochester would win the score count 5-2.  Netting final scores for the Knighthawks late surge came from the likes of Cody Jamieson (1g, 3a); Brad Gillies (1g, 3a); Benesch would net two; with Shanks closing out Rochester's scoring, but it wouldn't be enough as they would fall to New England 14-12.
NEXT UP:
New England continues their season as they head to Buffalo for the Eastern Division Semi-final playoffs as they take on Rochester's I-90 rival the Buffalo Bandits Saturday May 4th at 7:30 p.m. EST.
Christopher Crane, Correspondent Rochester Knighthawks
Lacrosse is Awesome©