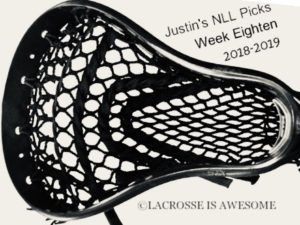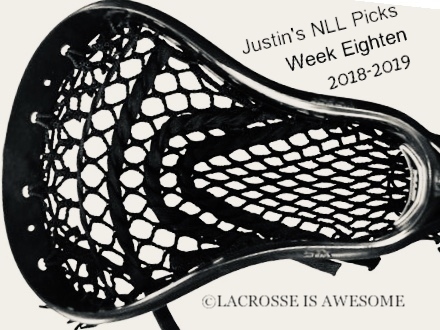 Justin Ivey, NLL Correspondent
Lacrosse is Awesome©
Weeks 1-9: 25-19
Week Ten: 4-2
Week Eleven: 2-1
Week Twelve: 4-0
Week Thirteen: 3-1
Week Fourteen: 4-2
Week Fifteen: 4-3
Week Sixteen: 2-2
Week Seventeen: 4-1
Season Total: 52-31
Last week the picks did not get in with enough time to post.  I blame my wife and her birthday on Saturday, but don't tell her that.  I was confident in my selections, but Rochester spoiled the perfect weekend with a big win against Toronto.  The East playoff teams are set after the New England win, so it didn't matter for Rochester, but it was still a good win!  Week 18 is here and there are six games.  Let's go!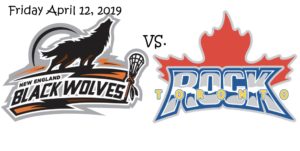 New England Black Wolves (8-7) at Toronto Rock (10-6)
Friday, April 12 at 7:30 PM EST
Do I need to remind anyone how bad the Black Wolves have been on the road?  They are 1-5.  They wrapped up the final playoff spot last week by beating San Diego at Mohegan Sun Arena and that is excellent, but now they are in a battle for third place with the Toronto Rock who are 7-1 at home this year.  Still, I think the Black Wolves know with the playoffs coming, they must find a way to win away from home.  This game is a statement to the league, and I think they win a close one in Toronto.
My Pick:  New England
Score:  New England-14, Toronto-12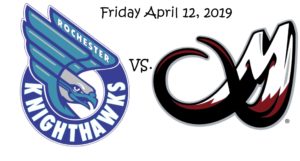 Rochester Knighthawks (4-11) at Colorado Mammoth (6-9)
Friday, April 12 at 9:00 PM EST
Colorado can clinch a playoff berth with a win against Rochester.  It won't be easy as Rochester has been playing well, but now they are eliminated from the post season.  I think Colorado is determined with the control of their own destiny and win big.
My Pick:  Colorado
Score:  Rochester-9, Colorado-15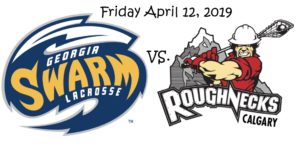 Georgia Swarm (12-4) at Calgary Roughnecks (8-8)
Friday, April 12 at 9:30 PM EST
Georgia visits Calgary with a five-game win streak.  Both teams have already clinched post season berths, but now are playing for position.  Calgary won last week as well, so both teams come in feeling good.  I give the edge to Georgia.
My Pick:  Georgia
Score:  Georgia-15, Calgary-13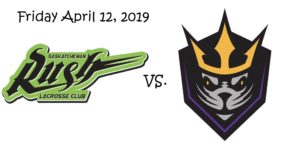 Saskatchewan Rush (8-6) at San Diego Seals (9-6)
Friday, April 12 at 10:20 PM EST
San Diego can wrap up first place in the West by beating last year's champion Saskatchewan.  What a fitting end of season storyline.  This is the first game of two this weekend for the Rush and they might get caught looking ahead to Philadelphia Saturday.  San Diego in a close one.
My Pick:  San Diego
Score:  Saslatchewan-10, San Diego-13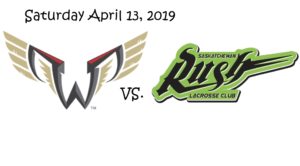 Philadelphia Wings (3-12) at Saskatchewan Rush (?-?)
Saturday, April 13 at 9:20 PM EST
Win or lose to San Diego, Saskatchewan returns home and will beat Philadelphia on Saturday.  The Rush are in the postseason and will dominate the game against the struggling Wings who are already eliminated from post season contention.
My Pick:  Saskatchewan
Score:  Philadelphia-8, Saskatchewan-12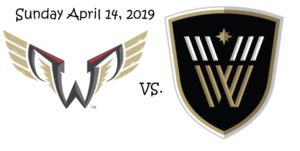 Philadelphia Wings (?-?) at Vancouver Warriors (4-11)
Sunday, April 14 at 6:00 PM EST
The Wings stay on the West Coast and play Sunday in Vancouver.  Vancouver has a slim chance of making the playoffs still but if Colorado wins on Friday, this game won't matter.  Kevin Crowley has a big game and Philadelphia splits the weekend.
My Pick:  Philadelphia
Score:  Philadelphia-13, Vancouver-9