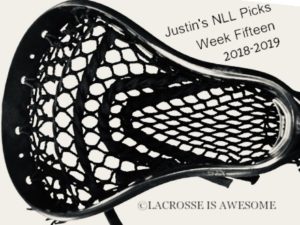 Justin Ivey, NLL Correspondent
Lacrosse is Awesome©
Weeks 1-9: 25-19
Week Ten: 4-2
Week Eleven: 2-1
Week Twelve: 4-0
Week Thirteen: 3-1
Week Fourteen: 4-2
Season Total: 42-25
A bad 4-2 for me last week.  New England is dismal on the road this year, dropping to 1-5 after their loss in Vancouver.  Earlier Saturday night, Calgary couldn't put up even 10 goals in a home loss to Colorado.  Buffalo did clinch a playoff spot with a win in Saskatchewan, but that game was much closer than I thought it would be.  Rochester lost twice as predicted, but again much closer than I thought.  They could have won both with just a few big plays.  This week we have seven games, three on Friday and four on Saturday.  There are a few ways teams can clinch a playoff berth so it should make for some great games!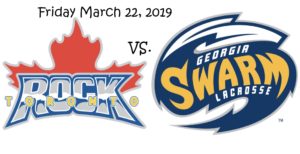 Toronto Rock (8-3) at Georgia Swarm (10-4)
Friday, March 22 at 7:35 PM EST
Toronto has three different scenarios to clinch a playoff berth.  The first is to beat Georgia.  Right now, the season series is tied 1-1 with both previous games being played in Toronto.  Georgia has already clinched a spot but could lose position still.  Currently they are in 2nd place and Toronto in 3rd.  Toronto has a bit more to play for, and I think the added motivation will really show.  Toronto wins a close run and clinches the first chance they get.
My Pick:  Toronto
Score:  Toronto-14, Georgia-12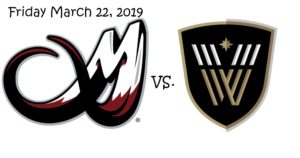 Colorado Mammoth (4-8) at Vancouver Warriors (4-8)
Friday, March 22 at 10:00 PM EST
The two last place teams in the West face off in a battle for the last playoff spot.  This is the first game of a back to back home and home for the two.  In the only previous matchup, Vancouver was victorious 11-10.  The winner of the weekend series has the easiest path to the post season.  Vancouver just came off a very strong home win against New England and the momentum should carry through to this week.  On the other hand, Colorado knows what is at stake and won a big road game in Calgary last time out.  The Mammoth squeak by in a close game to tie the series.
My Pick:  Colorado
Score:  Colorado-12, Vancouver-11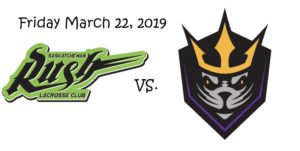 Saskatchewan Rush (6-5) at San Diego Seals (7-4)
Friday, March 22 at 10:00 PM EST
San Diego can clinch with some help, but the scenario involves them winning this game.  That paired with two Vancouver losses punches a ticket.  They have won three in a row coming in, but those three wins came against three of the four teams with the worst records in the league.  Saskatchewan lost a close game to Buffalo last week but won the previous three games in their schedule.  San Diego plays with a lot of energy at home, and I think it will be enough to will them to victory and avenge the early season loss in Saskatchewan.
My Pick:  San Diego
Score:  San Diego-15, Saskatchwan-13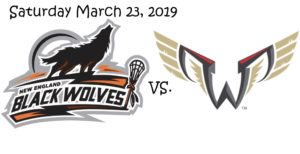 New England Black Wolves (7-5) at Philadelphia Wings (2-10)
Saturday, March 23 at 7:00 PM EST
New England can clinch a berth with a win and a Rochester loss. On the flip side, Philadelphia is eliminated from post season contention with a loss.  Philadelphia beat New England easily the first time they hosted this year, but New England returned the favor the night after at Mohegan Sun Arena.  Again – will Callum Crawford play?  His one game suspension was upheld and served last week.  It made a difference and the Black Wolves lost in Vancouver, leaving them 1-5 on the road.  His four-game suspension is under review.  To be honest, I really don't think it makes a difference this time.  Philadelphia will keep it close, but New England pulls through.
My Pick:  New England
Score:  New England-13, Philadelphia-10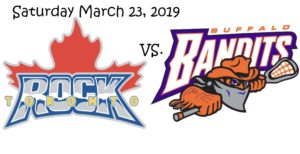 Toronto Rock (?-?) at Buffalo Bandits (11-3)
Saturday, March 23 at 7:30 PM EST
The second way Toronto can clinch a berth is by beating Buffalo if they do not win in Georgia.  Buffalo has already clinched and have the best record in the league, but they lost the first matchup against Toronto this year 17-12.  That game was in Toronto.  Buffalo fans will be loud and rowdy for this division game and I'm sure the players remember that loss.  Buffalo puts on another offensive show and ties the series 1-1.
My Pick:  Buffalo
Score:  Buffalo-16, Toronto-11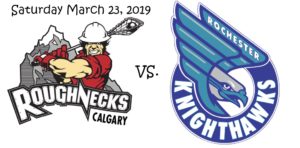 Calgary Roughnecks (6-7) at Rochester Knighthawks (2-10)
Saturday, March 23 at 7:30 PM EST
Calgary currently sits in third place in the West.  Rochester can be eliminated if they lose and New England.  With the change out of a lot of players on the team, Rochester has surprisingly been in contention their last two games.  The new players have been playing for a spot on a roster next near.  Boushy had seven goals two games ago against Georgia.  I think they get one more win on the season this week.
My Pick:  Rochester
Score:  Calgary-10, Rochester-12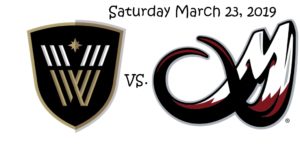 Vancouver Warriors (?-?) at Colorado Mammoth (?-?)
Saturday, March 23 at 7:00 PM EST
Second game of the back to back.  The teams will play Friday, get on a plane and play in Colorado Saturday.  If my previous prediction is correct, this game will decide the series.  Either way, I think the winner of this game is not dependent on the first game.  Colorado takes care of business at home.
My Pick:  Colorado
Score:  Vancouver-12, Colorado-14
Justin Ivey, NLL Correspondent
Lacrosse is Awesome©