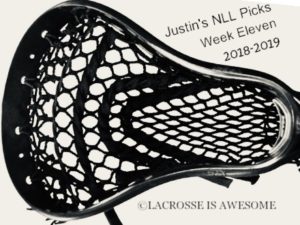 Justin Ivey, NLL Correspondent
Lacrosse is Awesome©
Weeks One thru Nine: 25-19
Week Ten: 4-2
Season Total: 29-21
Week 10 had its ups and downs both for my picks and some NLL teams.  Toronto barely got by San Diego to start things off Friday, a true reflection on how good this Seals team is.  New England did not go 2-0 on the weekend after losing to Philadelphia in Philly.  That loss did not hurt as much as Georgia dropping a low scoring game to Colorado.  What is up with the Swarm?  This week is a slow schedule with only three games.  Read on for the picks!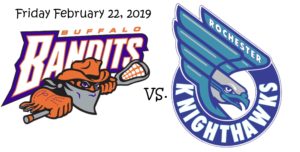 Buffalo Bandits (8-2) at Rochester Knighthawks (2-6)
Friday, February 22 at 7:30 PM EST
Buffalo and Rochester have split their season series so far.  The Bandits won in Buffalo 13-4, and the Knighthawks won in Rochester 18-13.  This game is important to both teams.  Even though Rochester's record is sub-par, this will only be there ninth game on the year.  A win could spur a second half of the season run for the playoffs.  They have had time to rest and recover since their 16-13 lost in New England on February 9.  Still, dropping three straight since their last win, ironically against the Bandits, does not muster much confidence.  Since losing to Rochester, the Bandits have won four straight and have outscored opponents 61-36 in that time.  The Bandits have shown that their defense can step up on the road (see their 19-9 win in Georgia and the 15-5 win in New England).  I think Buffalo is on a mission and the goal of the Champions Cup seems attainable to them at this point.  They won't want to drop the season series and come out strong.
My Pick:  Buffalo
Score:  Buffalo-17, Rochester-11
Colorado Mammoth (3-5) at Saskatchewan Rush (4-4)
Friday, February 22 at 8:30 PM EST
Colorado visits Saskatchewan with a little bit of momentum after beating the Swarm in Colorado last week.  That win was their second in a row after going 1-5 to start the season.  Saskatchewan is 2-1 at home in a see saw season after hoisting the Champions Cup last year.  This is the first of three matchups between these two division rivals this year and it really feels like a toss up with how both teams have been playing.  I'm going to give the edge to the hot team here and pick Colorado to win their third in a row.
My Pick:  Colorado
Score:  Colorado-13, Saskatchewan-12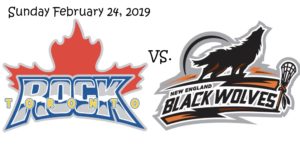 Toronto Rock (7-1) at New England Black Wolves (5-4)
Sunday, February 24 at 1:00 PM EST
Toronto visits New England with the best record in the NLL and a six-game win streak.  Four of those wins came by one goal.  They are living on the edge, but consistently finding ways to finish games on top.  New England seemed to have new life on Sunday against Philadelphia after losing Saturday in Philly.  Again, playing like they have a chip on their shoulder, the entire offense looked dangerous.  The Rock are currently 3-0 on the road, but New England is becoming a tough arena to visit.  Advantage home team.
My Pick:  New England
Score:  Toronto-11, New England-13
Justin Ivey, NLL Correspondent
Lacrosse is Awesome©