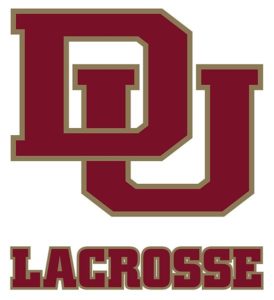 [MEDIA RELEASE]
Featured Image Photo Credit:   Carol MacKay
Ellis Geis nets hat trick and Brett Boos goes 15-for-19 from the dot in their collegiate debuts
DENVER – The [8/8] University of Denver men's lacrosse team defeated [RV/-] Air Force 11-4 on Saturday afternoon at Peter Barton Lacrosse Stadium.
Freshman Ellis Geis (Tustin, Calif.) netted a hat trick in the first two and a half quarters of his collegiate career, while senior Colin Rutan (Walnut Creek, Calif.) and sophomore Jack Hannah (Milford, Ohio) chipped in four points apiece in the season opener.
In the first game of the post-Trevor Baptiste era, freshman Brett Boos (Parker, Colo.) finished 15-of-19 from the faceoff dot, including eight-of-nine in the second half. Boos picked up four ground balls, while primary wings Danny Logan (Upper Arlington, Ohio) picked up two and redshirt-senior transfer Matt Neufeldt (Naperville, Ill.) scooped up three in his first game in a Pioneer uniform.
Senior Alex Ready (Lancaster, Pa.) made nine saves on 13 shots faced, backstopping a defense that shutout the Falcons in the first and fourth quarters.
Classmate Dylan Gaines (Baltimore, Md.) and Logan each had three caused turnovers to lead the Denver defense statistically, while eight different players picked up multiple ground balls.
The Pioneers jumped out to a 5-0 lead in the first quarter thanks to two goals from Geis, a tally from Rutan, freshman Alex Simmons' (Smithville, Ontario) first goal of his career and Ethan Walker's (Peterborough, Ontario) first score of the season.
Air Force got on the board 2:09 into the second quarter, netting back-to-back goals inside two minutes to cut the Pioneers lead to 5-2. Denver's defense locked down the Falcons after the mini-run, holding the visitors scoreless over the next 21:24.
Following the two Air Force goals, the Pioneers answered with another 5-0 run, including the first four goals of the second half.
Denver outshot Air Force 49-25, including 26-9 in the first half.
UP NEXT: The Denver men's lacrosse team, Presented by Your Hometown Toyota Stores, will hit the road for the first time in 2019 next Saturday when Denver takes on [2/2] Duke in Durham. Faceoff is set for 9 a.m. MT, and will be broadcast live on ACC Network Extra and ESPN Denver 1600.