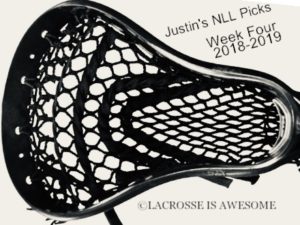 Justin Ivey, NLL Correspondent
Lacrosse is Awesome©
Week One : 1-2
Week Two: 2-1
Week Three: 3-2
Season Total: 6-5
Keep it positive. In week three of NLL action I got ABOVE .500, although barely. I did not foresee the low scoring Calgary win against San Diego and I most certainly did not give enough credit to the cast in Buffalo. Shawn Evans and Josh Byrne proved they can do it without Dhane Smith. Week four brings another five games from Friday to Sunday. It is an excellent weekend to be an NLL fan. Let me explain how I think the weekend plays out.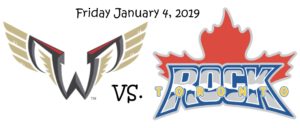 Philadelphia Wings (0-2) at Toronto Rock (1-1)
Friday, January 4 at 7:30 PM EST
The Wings. A storied NLL franchise returns, and unfortunately must play their third straight road game to kick off the inaugural season. Toronto lost a close game against a continually strong Georgia team on the road last week. Rob Hellyer had five goals and five assists, but the Swarm's Lyle Thompson scored two straight goals to end the game. Philadelphia does not have a Lyle Thompson on their team. They have Trevor Baptiste, who has gone 40-62 on the faceoff circle, but those don't count for goals. Their defense isn't a total wreck, but both goalies have played in both games and it seems there is no clear starter. Philly seems to be in a period of uncertainty as the players mesh into the system and with each other. With that being said, the savvy Toronto veterans easily win this home game.
My Pick: Toronto
Score: Philadelphia – 9, Toronto – 14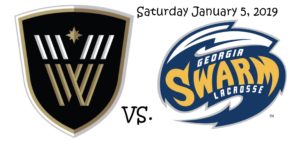 Vancouver Warriors (1-2) at Georgia Swarm (2-0)
Saturday, January 5 at 7:05 PM EST
Georgia almost looked defeated after Rob Hellyer scored his fifth goal with 5:03 remaining in the game to put Toronto up one last week. Almost is the key word. Lyle Thompson scored two goals in the last three minutes of the game (he was also unsuccessful on a penalty shot that would have made it three) to give Georgia the win. Vancouver has dropped two straight and looked lost and frustrated against Buffalo last week. The eight-goal deficit by halftime was too much to overcome with a late game run. The defense let Shawn Evans put up 11 points and now they face even a greater threat in Lyle. Georgia handles Vancouver at home and easily.
My Pick: Georgia
Score: Vancouver – 11, Georgia – 18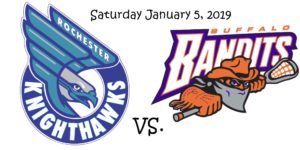 Rochester Knighthawks (1-0) at Buffalo Bandits (2-1)
Saturday, January 5 at 7:30 PM EST
It is likely this game is played with no Dhane Smith again. Shawn Evans (4G, 7A) and Josh Byrne (3G, 7A) took the opportunity to rack up the points against a helpless Vancouver defense last week. Rochester played their first game of the season last week and easily handled the Philadelphia Wings their second loss. The Knighthawks had a 3-1 record against the Bandits last season, winning both road games as they made it to the NLL Finals. Buffalo didn't even make the playoffs. I'm going to have to call this one a redemption game. In front of the home fans, the Bandits win a close one.
My Pick: Buffalo
Score: Rochester – 12, Buffalo – 13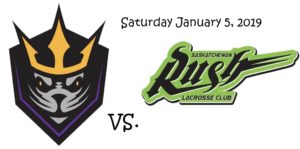 San Diego Seals (1-1) at Saskatchewan Rush (0-1)
Saturday, January 5 at 8:30 PM EST
The roller coaster ride that is being an offensive rookie. Austin Staats had nine points in his debut, followed by just a two-assist night last week. Calgary didn't just stop Staats, but the whole Seals' offense. They were only able to put in five goals. This week, they travel to Saskatchewan and must watch them raise the banner celebrating last year's championship before taking on the defending champs. The Rush did lose last week in New England, but I doubt they lose this game in front of an energized home crowd on banner night.
My Pick: Saskatchewan
Score: San Diego – 9, Saskatchewan – 16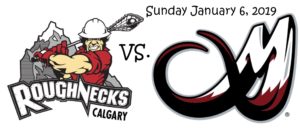 Calgary Roughnecks (2-1) at Colorado Mammoth (0-1)
Sunday, January 6 at 3:00 PM EST
An afternoon game on Sunday is pure bliss. Colorado lost their first home game to the surprising San Diego Seals two weeks ago. Calgary beat those same Seals last week but was only able to put up nine goals in the win. This game might be the hardest call of the weekend, so I am glad it is saved for last. Last season, the Mammoth led the season series 2-1 but lost to the third seed Roughnecks in the division semi-final. That game was played at the Pepsi Center in Colorado. Still no Curtis Dickson and Wes Berg sighting for Calgary leaves their offense looking for the hot hand. On the Mammoth side, goaltender Dillon Ward was pulled in favor of Steve Fryer against the Seals. I would hate to think Colorado starts 0-2 at home and must believe they ironed out some of their miscommunication from game one with their off week.
My Pick: Colorado
Score: Calgary – 10, Colorado – 13
Justin Ivey, NLL Correspondent
Lacrosse is Awesome©