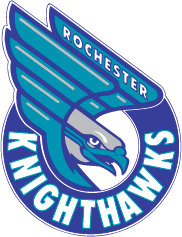 Christopher Crane, Beat Writer Rochester Knighthawks
Lacrosse is Awesome
Its Rochester's final season in the great state of New York and here's what's happening with their season.
With players and owners finally reaching a deal, the teams were able to attend training camps as well as seeing a lot movement on the rosters. To start, the Buffalo Bandits picked up Matt Vinc from Rochester. Other Knighthawks showing up to other camps were Dan Dawson and Joe Walters who ended up on the West Coast with the San Diego Seals.
Rochester owner Curt Styres announced in September that the team would be moving to Halifax after this coming season, however they still are on the path of continuing the youth movement as the Knighthawks signed first round draft pick from this years NLL Entry Draft James Barclay (9th overall); other draft pick signings also included Oran Horn; Luke Van Schepen; Dylan Riley; and Leland Powless.
The first round pick Barclay comes from Providence College where he was part of the defensive unit appearing in 62 games tallying three assists, 112 groundballs and causing 56 turnovers. Barclay also brings with him Junior A experience as well as being apart of the Oakville Rock in the MSL who advanced to there first MSL final.
Oran Horn was a third round selection by Rochester (36th overall). Horn is a defenseman/transition player who comes from Mercyhurst University, where over three seasons appeared in 45 games recording 51 goals and 17 assists. He also added to his resume by winning a bronze medal with the Iroquois Nationals at 2018 World Field Lacrosse Championships.
Rochester's other signee Luke Van Schepen who is a lefty defensemen completed his college career at Sienna College where he tallied six goals and 77 ground balls in 52 games. In addition Van Schepen has also spent five seasons with the Junior A Excelsiors recording 32 points and having playoff experience being with the Excelsiors.
Dylan Riley, Rochester's fifth round pick (62nd overall) is a going to be a big force as a forward.  The 21 year old stands at 6'5 and 250 pounds and has spent most of his career with the hometown Windsor Clippers.  At the Junior A level of play over five seasons he totaled 94 goals and 74 assists over the span of 68 regular season games; and 45 goals and 36 assists in post season play.
Joining Riley on the offensive end is another 21 year old forward Leland Powless who is cousin to former head coach Barry Powless and player Neal Powless.  Powless was a sixth round selection by the Knighthawks and comes from the Six Nations Arrows. After his first season Leland recorded 17 goals and 28 assists in 17 games. Adding to his resume are stints with Senior B Onondaga Redhawks and two years with the Junior B Seneca War Chiefs.
Other Rochester signings included Graeme Hossack to a three year agreement; Angus Goodleaf with Matt Vinc going to I-90 rival Buffalo; in addition Rochester also signed net minders Nick Damude; and Chase Martin.
Rochester is on the youth track yet again.  They came close to a National Championship in 2018.  Can they do it again in 2019 and walk away with the Champions Cup?
Christopher Crane, Beat Writer Rochester Knighthawks
Lacrosse is Awesome