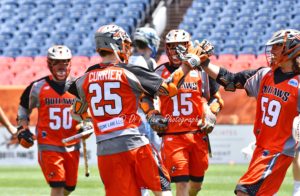 Di Miller, Beat Writer Denver Outlaws
Lacrosse is Awesome
On Saturday June 23, 2018 the Ohio Machine (2-7) hosted the red hot Denver Outlaws (6-4) at Fortress Obetz on a blustery day in Ohio.  Although the Machine are the 2017 MLL Champions, they have hit a rocky road this year and currently sit in last place in the league.  Ohio seems to be facing the same woes the Outlaws faced when they won their first Steinfeld Trophy in 2014.  Both teams had lackluster seasons following their first title.  This season, Denver would sweep the series over Ohio with the win today.  Final Score:  Outlaws 17—Machine 13.
This game would see 15 unassisted goals; three 2pt goals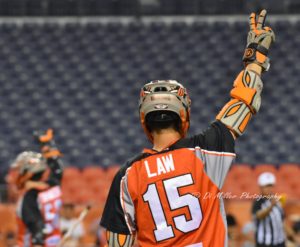 ; and four power-play goals.   Zach Bryant in his first game of his MLL career for Ohio would score unassisted in the first; Peter Baum would notch his 191st career point; and the Machine would have one of their highest penalty count games this season with seven.  For the Outlaws, Mikie Schlosser would see his first career hat-trick with three back-to-back-to-back unassisted goals; Chris Cloutier would score his second sock-trick of his rookie season; and Matt Kavanagh would hit 100 points in his career.
Denver would start out the contest with the first of three 2pt goals in the game.  Romar Dennis (1G-2pt, 1A) lined up outside the arc line and in a full rotation fired it past Kyle Bernlohr unassisted at 4:35.  Ohio decided to match it up with their own 2pt shot from Peter Baum (4G, 1A); followed only 12 seconds later by Tyler Pfister (1G).  The teams would trade goals 10 seconds apart, with Zach Currier (1G, 2A) and Dennis teaming up to tie the game at 10:25; and Zach Bryant (1G) a rookie D-pole getting his first career goal unassisted at 10:35.  Ohio would take the lead and close out the quarter up 4-3.
The second would see a total of nine goals, three for Ohio and six for Denver.  Brandon Mangan (2G, 1A) would start it up at 1:08 when he stepped into the shot as Josh Hawkins crossed in front and somehow found a small window to put it past Jack Kelly.  Denver would hit back with two of their own, one from Drew Snider (G) on the power-play with the extra pass from Law he bounced it past Bernlohr; followed by the first of three from Mikie Schlosser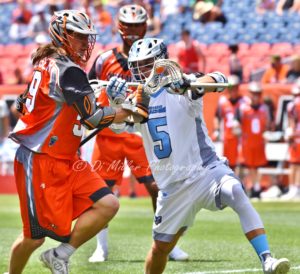 who was on point and Coach B.J. O'Hara called "a thoroughbred" and of course as any coach would do with a smile, took credit for the young players success.   His first was off the left shoulder of Bernlohr on the break; the second was a left hand shot from the BTB pass from Bellistri and a stutter step off the pick; and his final goal was top shelf as he came down the field, tip toed faked right and shot left.  In between his party, Holman would have the quick release shot as he came from behind the crease right to left and fired it past Kelly.  Snider would score again along with teammate Chris Cloutier (6G).  The Cloutier goal was a beauty as the shot clock was winding down, Snider would pass to Cloutier with a direct shot on goal, but Bernlohr couldn't control the reset and Cloutier took advantage. Baum would score for the Machine on the power-play when he beat the slide to put it past Kelly. Score at the end of two:  Denver 9—Ohio 7.
The third would start with a highlight reel goal from Kylor Bellistri (1G) as he would come from behind the net splitting the defenders and bull dozed his way through and while falling down somehow found a way to get the shot off.  But Holman wasn't going to be outdone as he buried a shot far side off the faceoff win of Greg Puskuldjian across the screen top right with a quick release shot only six seconds later.  Mangan would get his second on the night with a crazy feed from Holman on a BTB pass.  The play started with a nice outlet pass from Bernlohr to the two D-poles standing across the midfield line followed by the pass to Holman who found Mangan for the goal.  But on the next play, Josh Hawkins (1G) was unguarded did a spin and roll dodge went up the middle and found a piece of the net at 2:41.  The Outlaws would go up 11-9 with almost 13 minutes left in the frame and plenty of time for an Ohio comeback.  Cloutier would hit back-to-back again completing his hat-trick after having two previous goals called back for crease violations.  Score at the end of three:  Outlaws 13—Machine 9.
It was do or die for Ohio with 15 minutes remaining in what could be their last shot to grab a spot in the playoffs.  Baum scored twice bringing the Machine to within two at 13-11.  But the Outlaws would control the remaining eight minutes of play only allowing the Machine to score once, another from Holman this time a 2-pointer and his sixth career 2pt goal.  Denver would see three more from Cloutier giving him his second career sock-trick this year; and Matt Kavanagh getting his only goal of the game and 100th career point.  The fourth quarter would consist of five unassisted goals; one power play goal; and one 2pt goal.  Final Score:  Outlaws 17—Machine 13.
The Machine brought in a lot of younger players this year all with insurmountable talent, but they can't seem to put together enough scoring streaks.  As the game progressed you could see the frustration building in the Ohio player's eyes; heads hanging low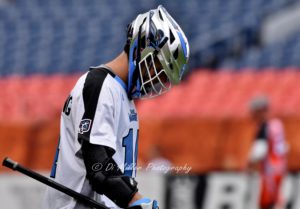 as the wind was let out of their sails.  While Denver on the other hand seems to excel as the season goes on with their NLL players and draft picks coming on board.
The Outlaws are on another run like they were in 2016 when they won their second MLL Steinfeld Trophy.  Can they continue the streak?  They've most likely clinched one of four playoff spots, but it is still a very close race for the top spots with five weeks left in the season.  We've also got the MLL All-Star Game coming up on June 28, 2018 and the 2018 World Lacrosse Championships going on from July 14 through July 21 which will see many players in Netanya, Israel representing their nations.  The remainder of the season will see many new faces during Worlds and the tables could turn for many a team.
Ohio needs to go back to the drawing board; put on their thinking caps; and tune the engines with five games left in the 2018 season to see if they can end the season at or close to 500.
Next up:
Denver has a bye week and will return home on Wednesday July 4 when they host the Boston Cannons (3-6) for their annual Fourth of July game.  Ohio (2-7) heads up to New York where they will face the Lizards (4-5) on June 30, 2018.
Di Miller, Beat Writer Denver Outlaws
Lacrosse is Awesome