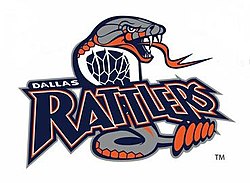 Tom Coyne, Beat Writer Dallas Rattlers
Lacrosse is Awesome
The Major League Lacrosse Dallas Rattlers, formerly the Rochester Rattlers have moved to Dallas. The Ford Center at The Star, in Frisco will be the Rattlers new home. In case you hadn't heard this is where the Dallas Cowboys new practice facility is located.
"The Ratz" as their loyal fans in Rochester lovingly refer to them, are ready to make a strong statement to the lacrosse/sports world in this, their inaugural season in Texas.  It has become one of the burgeoning sports; and biggest hot beds, with local high school teams producing athletes, garnering scholarships to major universities and colleges, even though it is still just a club sport in Texas.  Season tickets as well as individual game(s) ticket are on sale and seats are selling fast.  So get yours now before it is too late.
Lacrosse is Awesome was there to cover the Rattlers first practice session open to the public.  We caught up with two of the sports elite athletes, Team USA and Rattler's goaltender John Galloway; and lacrosse's favorite family; son; lax star; and fitness guru,
Chris Bocklet
of the famous Bocklet lacrosse family.  We got to talk to both and also hang out behind the scenes at the Star in Frisco. Both interviews with John and Chris are up on Lacrosse is Awesome on Facebook page.
Don't forget to get your season tickets, which will include a subscription to MLL TV.  Their inaugural home game is Sunday April 29, 2018 against the 2014 and 2016 MLL Champions, the Denver Outlaws.
Keep on laxin' and follow our coverage of the first ever MLL team in Texas.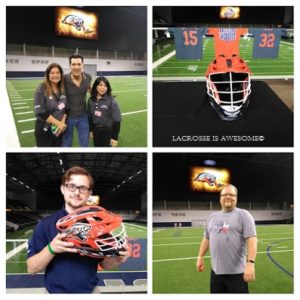 Pictured is the new Dallas Rattlers helmet. Outside The Ford Center at the Star in Frisco, TX on their way to the airport are some of the members of the franchise.  They were gracious enough to let Lacrosse is Awesome snap a quick picture.  We also captured a shot of Rattlers attackmen Chris Bocklet after practice. In the collage is Rattler's front office and media person Austin Lee holding up the Ratz new Cascade Helmet.  Bottom right is the one and only Scott Warren, coach with the Allen lacrosse program and my videographer for the day.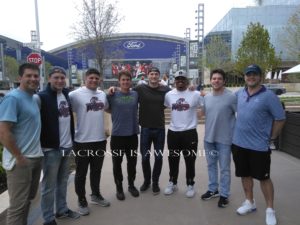 On the right, you'll see me in the middle with some of the stadium staff and some of the finest security personnel, Linda Allen (L) & Gayle Posas (R).
Tom Coyne, Beat Writer Dallas Rattlers
Lacrosse is Awesome