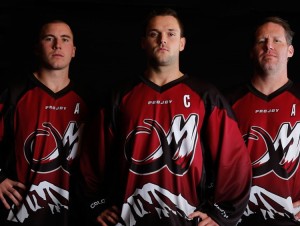 The Colorado Mammoth announced on Tuesday that defenseman Dan Coates has been named team captain for the 2016 season. Forward John Grant, Jr. and defenseman Cam Holding will serve as assistant captains.
Coates enters his fifth year with the Mammoth after being selected in the first round of the 2011 NLL Entry Draft. He and Holding were assistant captains in 2014 and 2015.
"It's truly an honor to be named a leader for this organization," said Coates. "I've been fortunate to have some great mentors in my life that have made me the person I am today. It's very humbling that my teammates, coaches and the team's management support me. Our success will be because of our work habits and compete-level and if I can deliver these to my teammates, we will succeed."
The recipient of the team's inaugural Dave Stilley Award (top defenseman) in August, Coates was recently named one of the league's best players by ILIndoor. He won gold medals in world championship competition with Team Canada in 2014 and 2015.
"Dan has established himself as one of the game's elite defenders," said Mammoth president and general manager Steve Govett. "But being a great player doesn't necessarily mean you're a great leader; in Dan's case, he's both! He takes his captainship seriously."
Grant previously wore the 'C' on his chest, and was part of the process in elevating Coates to captain.
"Our team is 'Coming of Age', and Dan is an integral part of it," said Govett. "We're confident that he's ready to lead our team on and off the floor."
For Coates and his teammates, all eyes are on Opening Night. "We're very excited for the 2016 season," said the captain. "January 1st can't come quickly enough!"
I am pleased to say that I am good friends with Danny Coates & he also wore my Dad's name Ronald Hutchison on the back of his jersey at the 2014 Lacrosse Out Cancer night. Every year I wear that jersey in honor of my dad.
Congrats go out to Danny and we would like to thank the Colorado Mammoth for the updates.
Di Miler, Beat Writer Colorado Mammoth
Lacrosse is Awesome